COMFORT CARE DENTAL PLATINUM PLAN
An Easier Alternative to Dental Insurance
If you are unsatisfied with your current insurance plan and need immediate coverage for dental emergencies and preventative dentistry, Comfort Care Dental has just the plan for you. Our Platinum Plan provides our patients with a variety of benefits and discounts in order to protect their healthy smiles in a timely and cost-effective manner.
Since 2005, our Royse City dental team is dedicated to keeping our patients' smiles beautiful and healthy. With more than 75 years of combined dental experience, we have what it takes to resolve any oral health issue while providing a friendly, peaceful environment for maximum comfort.
The Benefits of the Platinum Plan
The Platinum Plan costs $35 for individuals and $29 per person for families (per month). This plan covers two cleanings, two exams, and a set of x-rays annually, including a panoramic radiograph every three years, all for free. Additionally, discounts between 30-40% are offered on wide range of dental procedures, such as root canals, crowns, filings, implants, and much more.
The following is a visual comparison of the prices for dental services with and without the Platinum Plan: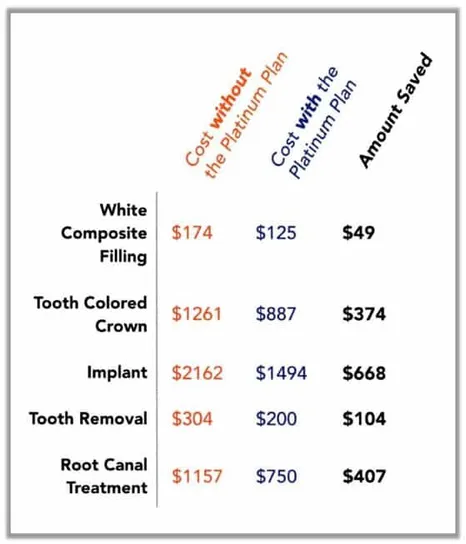 Sign Up Today!
At Comfort Care Dental, we pride ourselves on delivering high-quality and compassionate dentistry. Our priority is to establish long-lasting, caring relationships with our patients as if they are family. Whatever your oral health goals are, we can develop an effective treatment plan to keep your teeth and mouth at optimum health. Do not hesitate to book an appointment with our experienced dental team.
Call Comfort Care Dental today at (972) 635-9919 to learn more information about our Platinum Plan today.